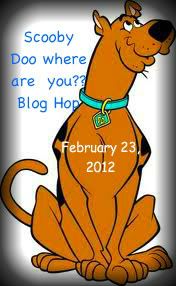 We have a wonderful line up for you today to just follow along and enjoy our scooby. If you just happened to be visiting me ---I love visitors but would prefer you to start at the beginning of our adventure with Kari at
http://purplefuntastickcreations.blogspot.com/
.
You should have arrived in the Mystery Machine from Jamie-
http://myamusinglife.blogspot.com
which means you are on the right trail to solve the mystery of crafting!!!!!!!!
We have wonderful treats from our sponsors by remarking on each of the blogs along the way. With Scrapbook Stamp Society you must click "like" on their facebook page and become a follower on their webpage:
Lucy Kelleher, an Independent Consultant from CTMH is giving away the February Stamp of the Month - Thoughtful Tidings - a $17.95 value in her capacity as a consultant
Shannon Leffew Keith: beautiful flowers that she makes
Scrapbook Stamp Society at http://www.facebook.com/ScrapbookStampSociety and webpage is http://scrapbookstampsociety.com/ are giving away 3 free digi stamps from their store.
Susan Bermudez, an Independent Consultant from CTMH is offering a $20 Gift Certificate
Now sit back and enjoy my crafting adventure hunting down those nasty ghosts and finding Scooby his treats
I found this cute coloring page online and colored it using Adobe Photoshop. I also took some liberties and added more bricks to the wall because I thought the few they had looked to sparse and they were odd shaped. Therefore, I simply used the rectangle tool, added more, and colored them all the same color.
Scooby is doing everything he can to keep this ugly monster out of the house and away from his Scooby treats. I completed the card by adding a banner with a black border. We needed to let people know Scooby was serious about protecting his treats.
For the inside of this card, I used the same coloring as the walls on the front of the card, and added my sentiment in black. I also found a picture of just Scooby's face, colored it, and added it to the top right corner for a little flair.
Simple yes, but it was fun to color and create this card.
You next stop on our adventure with the Mystery Crew is Amy -
http://www.lovetocrop.com
Thank you for taking part in our wonderful adventures with Scooby Doo Where Are You????? Hopefully he's not hiding somewhere snacking on those delicious scooby treats. We would love for you to leave a comment as to your favorite scooby treats ..... until the next episode we thank you!!!
Here is the full lineup:
Kari -
http://purplefuntastickcreations.blogspot.com/
Susan -
http://susanascorner.blogspot.com/
Gill -
http://creationsbygillm.blogspot.com
Jen -
http://memorieswithjen.blogspot.com/
Jamie-
http://myamusinglife.blogspot.com
Kimberly (KPKre8tions) Pate ~
http://scrappingrookie.blogspot.com
(you are here)
Amy -
http://www.lovetocrop.com
(You go here next)
Colleen -
http://www.cbcscrapbooking.blogspot.com/
Shannon Leffew Keith -
http://shannonleffew.blogspot.com/
Lynne -
http://slasewcraftiness.blogspot.com/
Jearise -
http://lorbysworld.blogspot.com
Lisa -http://handmadewithlove-lisa.blogspot.com/