I LOVE SKETCHES BY TSUNAMI ROSE BLOG HOP DAY 1

Hi there and Welcome to the first Monthly Blog Hop hosted by Daisy Collins of I Love Sketches by Tsunami Rose. We have a great line-up just waiting for you! Each Blogger was given the sketches ahead of time to create a one-of-a-kind card to share with you! This is a 2 day hop that will feature a different card sketch for day 2 so PLEASE be sure to join us again tomorrow for the second half of the Blog Hop!

Before we get started I would like to first thank our sponsors for this hop! A BIG THANKS to...

1- Martha Pineda from Creating Is Fun - Creating Is Fun She is offering $10 Gift Certificate to her shop! She has some really good stuff, ladies!!

2- Tricia Colon from Tricia's Place -Her prize will be a stamp set and an ink pad from CLOSE TO MY HEART! Great products and you get to try them for free!

3- Maria Levine - Ria Creations is offering a prize of Ippy stamps!!

In order to enter for these wonderful prizes as well as a goodie bag from Daisy Collins, you must become a FOLLOWER of each of blogs on the blog hop list as well as COMMENT on their blog hop posts. 2 random winners will be picked from each days of the blog hop! The comments are due by MARCH 30TH AT MIDNIGHT PACIFIC COAST TIME. Winners will be announced Saturday!

YOU HAVE 2 CHANCES TO WIN, SO GOOD LUCK!

Now...who is ready for some fun?!? ~ Here's the line-up:

1. Daisy Collins- Tsunami Rose Designs
2.Tricia Colon- My Crazy Bubble
3. Hannah Perry- The Perry Lane
4. SuzeJo Murphy -Crimson Moon Crafts
5. Michele ~ Chele's Crafts
6. Veronica ~Scrapin' with Meras
7. Monica -Scraps 2 Treasure
8. Maria Levine - Ria Creations
9. Karen - Karen's Creative Ramblings
10. Angela- Creative Craftin
11. carrie corbin- Carrie Tumbling Around
12. Shalana - Scrappin With Shalana
13. Jane Stillman - Janes Plaice
14. Linda Simpson - Crafty Piece of Heaven
15. Kimberly - Scrappin' Rookie
16. Martha Pineda- Creating is Fun
17. Christina Capps- Cema 1 Cema
18. Abbie Kay- Powered by Fairy Dust
TODAY'S SKETCH IS #9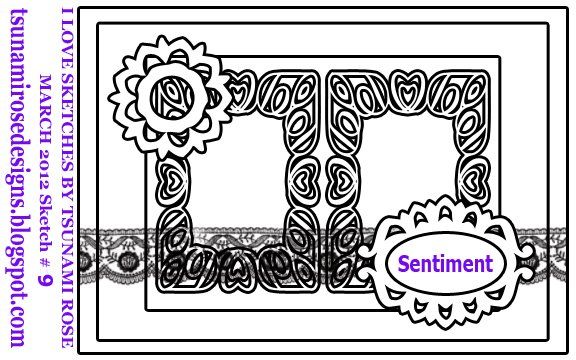 Here is my version of the first sketch.
The paper I used for this card is from the DCWV The Rustic stack. I love the paper as it reminds me of the wonderful wall papers in my grandmothers house. For the beautiful roses on my page I used a vintage arts web site. www.farfarhill.blogspot.com this site offers some wonderful vintage papers and graphics. Be careful thou, this is a site where you can spend hours just looking before you ever decide what you really want to use.
I made this card to send to a very special friend, hence the sentiment. She knows that I often have a problem with keeping things straight when I craft, so I purposely made the sentiment cooked.
I completed the card by adding some lace and an ivory colored rose in the top right corner.


If you enjoyed the awesome sketches and like what you saw please join us over on our Facebook Group - where you can view others using I Love Sketches by Tsunami Rose. Don't worry about having to create a card everyday...it's a GREAT place to view others' creations to use as inspiration and of course meet some new talented crafty friends...hope to see you there!