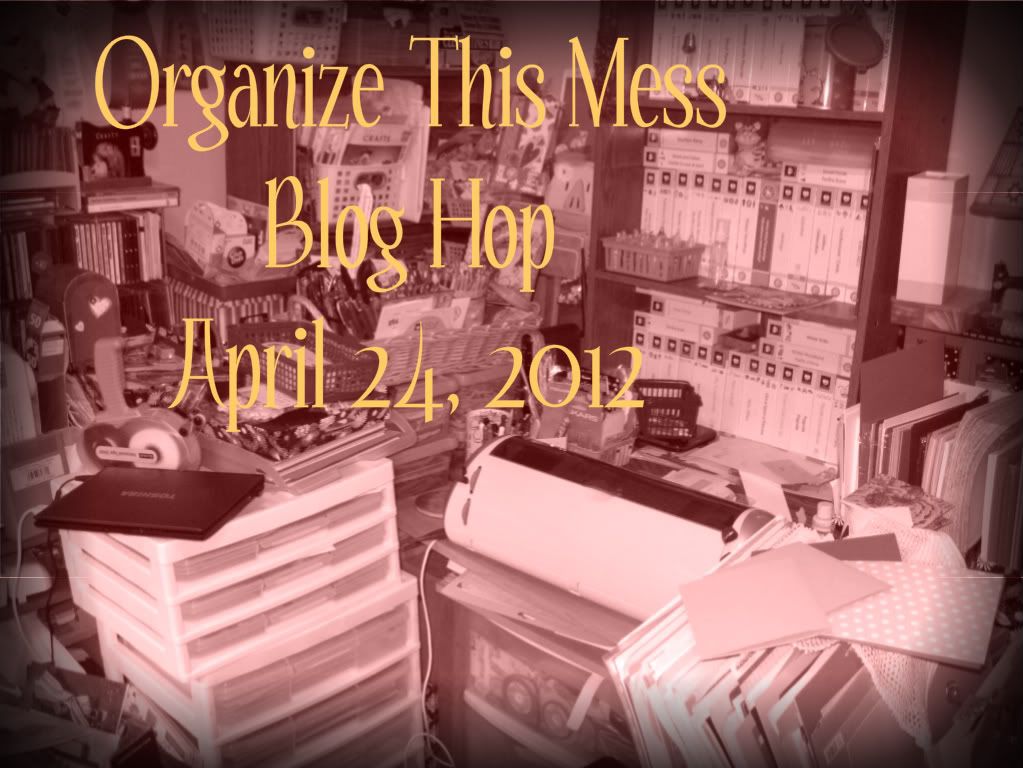 Organize this Mess.....we look at our creative space and just wonder where we put that embossing folder that we had just used two weeks ago, past Tuesday, of the 3rd of the month. We know that feeling oh soooooo well!!!! I pride myself in my organized "clutter"! Wouldn't it be wonderful to know where everything is and that there is a place for everything and everything in its place!!!!
That's what this hop is hoping to do! Trying to give helpful hints on storage, clever ways to keep things and just organize the mess!!!!!!
There is a very creative cluttered group to help us along this path. We hope you can find the time to organize and hop along with us while we "declutter" along the way!!!! Of course there will be some blog candy to add to "your" organized clutter if you comment along the way and don't miss a single blog!
If you just happened to be visiting me today, I am ever so glad, but don't want you to miss an organized stop. So please start at the beginning, at
Kimberly's
. She's going to give us a jump start on cleaning this mess!
Oh the messes we can make as crafters. We work away and put this gadget here, and that gadget there. Pretty soon, your craft area area looks like a tornado struck your room, or at least I know mine does. Through the winter months, I craft in my dining room so I am closer to the fire place and the heat. (I am a really cold blooded little lady). These first two pics are my crafty space in my dining room. While small yes, I still tried to do my best to keep it organized.
Once the winter has past, I can move back into my crafty space in of craft room. When I moved into the dinning room, it left my craft room in a horrible mess. However, with a little bit of work, it quickly became this...
I know the light on my desk has a glare on it, (sorry). However, I truly love my new room set up. My husband has been so helpful to create a huge peg board for me. Not only does it hold my crafting tools, but also my bin of embroidery floss, organized by numbers. Above my desk, you see a great ribbon rack. This ribbon rack is made out of a rain gutter. My husband cut the gutter into for pieces then screwed it to the wall. Also above my desk, he has created four shelves for me. These shelves hold my stamp pads, fancy scissors, colored markers, embossing folders, and some of my embellishments.
To the right of my chair is where you will find the few punches I own and my two cutting boards. Under the table, I have two crates that holds my paper, which is organized by colors. However, on of my most favorite organization tools I have now, is for my flowers. My husband made this for me out of PVC Pipe. I used to lay my flowers on the floor, or put them in the cabinet. The blossoms would get smashed, and they would fall off. Now, I don't have that problem anymore.
Some other little things I do to help keep myself organized when I craft. Nikki has created some great files for sale in her
store
. I simply love her labels, however, I have been out of ink in my printers (yes, multiple) and have not been able to print. I am sure you will see these on some of the other ladies blogs. they are simply adorable, and I cannot wait to get more ink and get all my baskets, bins, and drawers labeled correctly.
When I store my embossing folders, I have them in a file that you can also pick up at Nikki's store here, I put my embossing folders in the folder after I emboss the front. This makes it fast and easy for me to find the folder that I want.
Now, that I have given you a way to get organized, let me send you on your way to
to give some more helpful hints and tips to organize this mess!
Kimberly ~
http://Scrappingrookie.blogspot.com/
Mandy-
http://lovestoscrap11.blogspot.com/
Mindy~
http://mindyspapercreations.blogspot.com/
Patti -
http://pattilynncreations.blogspot.com/
Linda -
http://lindascreativity.blogspot.com/
Lynne ~
http://slasewcraftiness.blogspot.com/
Lisa ~
http://handmadewithlove-lisa.blogspot.com/
Christina ~
http://cema1cema.blogspot.com
Anita ~
http://www.anitaandbugs.blogspot.com
Michele ~
http://michelescraftroom.blogspot.com/
Amanda~
http://thescrapoholiccandyshop.blogspot.com/