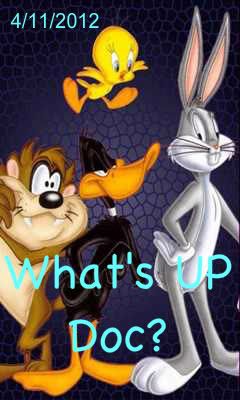 Welcome to "What's Up Doc" blog hop!!!!
1930: Birth of Warner's cartoons
Bugs Bunny, Daffy Duck, and Porky Pig are three of the animated cartoon characters that have become central to the corporate image of Warner Brothers. Bosko was introduced as their first character in "Sinkin' in the Bathtub" with a sister series, Merrie Melodies in 1931. Bosko was taken to MGM due to a contractual dispute where Buddy was then born (a Bosko clone).
Porky Pig was born in 1936 which established the character as the studio's first bona fide star. In addition to Porky Pig, Warner Brothers cartoon characters Daffy Duck (who debuted in the 1937 short Porky's Duck Hunt) and Bugs Bunny (who debuted in the 1940 short A Wild Hare) also achieved star power. By 1942, the Schlesinger studio had surpassed Walt Disney Studios as the most successful producer of animated shorts in the United States.
Bugs Bunny, Daffy Duck, Tweety Bird, Sylvester, and Porky Pig became central to the company's image in subsequent decades. Bugs remains a mascot to Warner Bros.' various divisions and Six Flags (which Time Warner previously owned). In fact, it was the success of the compilation film, The Bugs Bunny/Road Runner Movie.
I'm glad you stopped by to visit today and you should have arrived from
. If you haven't arrived from there, we wouldn't want you to miss a single episode and would love for you to start at the beginning instead of the refreshments at Lynne's blog at http://slasewcraftiness.blogspot.com/
What's a hop without goodies – there will be surprise package of goodies. To be eligible, you will need to visit each of the stops along the way and to leave comments at each. Also, we would love to have you become a follower and leave a way to contact you!!!
Today I want to share with you a double page layout I am making. I have pulled three of my favorite Loony Tunes Characters and added to the layouts. I had some issues with cutting a couple of SVG files I was trying to cut, so I went the next best route. I used some coloring pages I found online, colored them with my Photoshop program, then layered them on two colors of paper.
For those of you who follow my blog, know that I am simple with my designs, and this is no different.
This two page layout still needs a title, I have come up with several, but I decided I would give you all the opportunity to help me add a sentiment to the help complete the process.
I do apologize that my pics are not the best, however, when I went to take them this evening, my camera no longer worked. So, I had to take them with my cell phone.
With all of these facts being said, "I tawt a taw a puddy tat", "that wascally wabbit", "What's up Doc", "you're desthpicable", "sufferin' succotash", and …….. "Th-th-th-that's all folks!" with going to the next stop along the way
Colleen
The complete line-up incase you pop out of one of those wascally wabbit holes:
Lynne ~
http://slasewcraftiness.blogspot.com/
Kimberly ~
http://scrappingrookie.blogspot.com
Colleen ~
http://www.cbcscrapbooking.blogspot.com
Lisa ~
http://handmadewithlove-lisa.blogspot.com/
Gill ~
http://creationsbygillm.blogspot.com
Anita~
http://www.anitaandbugs.blogspot.com