Welcome to Whitney's Sweet 16 Blog Hop!!
Grand Prize Winner will receive
In order to be eligible for grand prize drawing please make sure you check out each blog and leave some blog love, also make sure you leave a comment and become a follower at Rachelle's blog.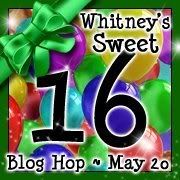 Today we are celebrating a vibrant, beautiful 16 year old young lady who is a gift from the Lord. What better way to celebrate your 16th birthday than with friends. So I have asked several of my talented crafty friends to help me make Whitney's 16th birthday special. This hop is all about Whitney and I have asked my crafty friends to make card to send to her to celebrate her 16th- all celebrating that special time in life when a girl turns 16. I hope you enjoy each project along the way as everyone has worked very hard to help make Whitney's day special. Be sure to leave a comment at each hop stop to win blog candy.
If you've arrived from
Ellen CardMonkey
, then you are in the right place!! If you've just popped in to visit my blog or are reading this via email please go to Rachelle's blog and start at the beginning...
To celebrate Whitney's birthday I created........
From the pictures I have seen of Rachelle's beautiful daughter, she always had a smile on her face. I thought this sentiment was fitting for her. The inside is stamped with a happy birthday sentiment.
Now you are on your way to the next party stop with Beth.
Thanks for stopping by and Happy Birthday Whitney!
Here is the full blog line up - -