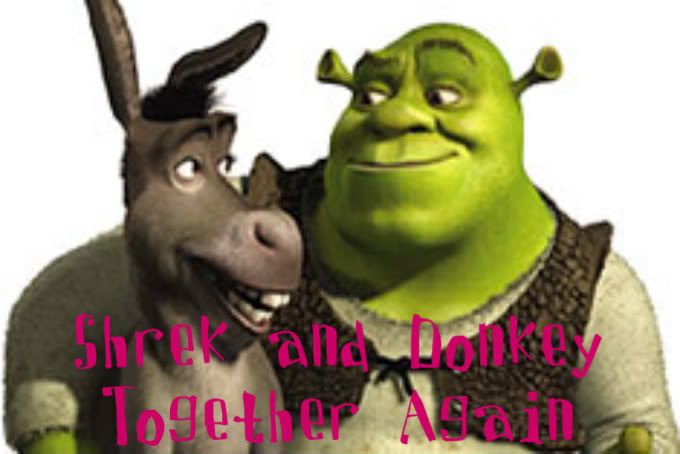 Welcome to Shrek and Donkey Together Again Blog Hop!!!!
Aren't they the most unlikely duo around? Shrek an ugly ogre who says "Ogre's are like onions, you need to peal the layers to know about them" and Donkey, what can I say but he is the sidekick that loves waffles for breakfast and talks a mile a minute!!! The two together rescue a damsel in distress for fairy tale dispising Lord Farquaad who wants Fiona . . .
The movie and musical are actually loosely based on a book by William Steig"s 1990 book called "Shrek!". The movie parodies nursery rhymes which not only makes a great kid's movie but great adult entertainment as only an adult can appreciate!!!
We have a small but fabulous line-up for you today as we depict this fun-loving duo.
Shrek and Donkey. . . . enough said right. Not to mention all the other fun loving characters in the movie. This unlikely duo always seem to have a lot of fun no mater what they are doing. In they end, they always get the job accomplished thou, right?
Today I chose to do a digi card. I have been learning more and more about using my Crayola Colored Pencils and Gamsol to color my images. I am getting better each day, but still have a lot way to go to compete with others.
This would make a great birthday card for a child. I however, chose to not add a sentiment, that just a big fluffy bow at the top of the page and green pearls at the bottom of the page.
Thanks for stopping by our little neck of the woods as all the fairy tale characters are hiding her to avoid that Lord Farquaad and as you know what they say about him .......