hey everyone, my blog hasn't worked in months, so I was quite excited to be able to actually access it this morning. If it continues to work, I will share with you some of my fun projects I have been working on lately. The first, however, is this card I created for Crafty Gals Corner Design Team. This weeks challenge is anything goes. Read more to find out how you too can participate.
Our current challenge is ...
Anything Goes
We have three awesome and generous sponsors for our challenge this fortnight, so be sure to play along for a chance to win one of the fabulous prizes sponsored by:
The Paper Nest Dolls
Prize: $20 gift Certificate
Kitty Bee Designs
Prize ~ 1 Digital Image
Decosse's Dynamite Doodles
Prize ~ 1 of 5 sets offered by the sponsor
Bio:
Are you interested in digital sentiments, papers and other embellishments? How about a badge made especially for your blog? If these are items you are interested in, you are going to want to check out Décosse's Dynamite Doodles. My name is Lisa and with over 200+ posts of freebies to choose from, and new ones added often, I just might have what you are looking for. Along with the freebies I offer, I also create blog badges, watermarks and digital Scrapbooking Kits. I also sponsor a number of challenge blogs throughout the year and it is my absolute pleasure to have the opportunity to sponsor the Crafty Gals Corner Challenge Blog!
If you have the time, I'd love for you to pop by and visit me. There is always inspiration to be found among my many different features. Come and take a look -- I hope you have a blast!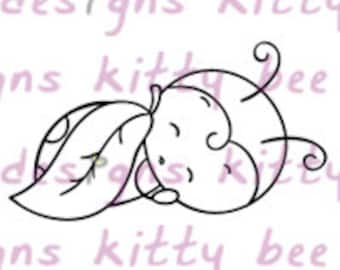 Sleepy Love Bug
When I first saw this image, all I could think of was "Snug as a bug" but didn't really like how that sounded for a card, so I went with something a little fun. I turned to my Silhouette to find a fun design to use, and found "Cute as a Bug". I hope you like it, as it was fun to create.