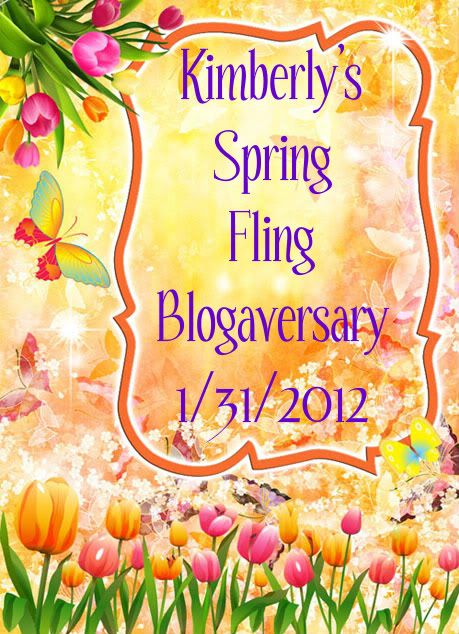 Welcome to my Blogaversary. I'm tired of winter and thought it was time for a "spring fling"!!! All I asked for the crafters was to do something that reflects birth which is what spring means to me in pastel and floral colors!
We have a wonderful group of sponsors that want to have "Spring" too ..... I would ask that each of you take the time to stop and visit each one of the sponsors. They have graciously donated their talent for this hop.
Creative Kut ~ $10 gift Certificate (

http://www.creativekuts.com/

Melissa Deuss KaDoddle Bug ~ $20 Gift Certificate (

http://www.kadoodlebugdesigns.com/

)

Mickie Burks Osman ~ a paper pack and some stamping goodies

Lucy Kelleher ~ Close To My Heart ~ December Stamp of the Month

Nikki Schiltz Calmes ~ Paper Piecings by Nikki ~ $25 credit to Paper Peicings by Nikki (

http://www.paperpiecingsbynikki.com/

)

Scraptastical Kreations ~ $20 Gift Certificate (

http://scraptasticalkreations.com/

)
There are a lot of great gardeners along the path, so this hop is two days, so, so sit back, relax and take your time browsing each garden.
To be eligible for the blog candy, you must follow Kimberly's blog. Other bloggers may have additional requirements if they offer individual blog candy.
Our wonderful line-up is:::
Kimberly Pate ~
http://scrappingrookie.blogspot.com/
Kari Sanchez ~
http://purplefuntastickcreations.blogspot.com/
Lisa Peters ~
http://handmadewithlove-lisa.blogspot.com/
Mickie Osmon ~
http://www.littlescrapcorner.blogspot.com/
Audrey Dickinson (Scrappie EMT) ~
http://scrappyemt.blogspot.com/
Tiffany Grant-Simmons ~
http://angel4ever-thecraftyteacher.blogspot.com/
Lynne Kirsch -
http://slasewcraftiness.blogspot.com/
Marleen Gallagher -
http://www.marleens-crafty-space.blogspot.com/
Pamela Pattison Lash -
http://lovebugcreations3.blogspot.com/
Tricia Colon ~
http://mycrazybubble.blogspot.com/
Michele Eickholt ~
http://chelescrafts.blogspot.com/
Staci McD ~
http://preciousmem.blogspot.com/
Katie ~
http://www.ktsangels.blogspot.com/
Lucy Kelleher -
http://love2createitall.blogspot.com/
Lisa Woodward ~
http://mycraftyspaces.blogspot.com/
Melissa Deuss -
http://www.kadoodlebugdesigns.blogspot.com/
Elecia Betts -
http://creationsby-kahaulani.blogspot.com/
Leslie Dawn Bigam-Krochta -
http://www.lesliekcreations.blogspot.com/
Mary Finstrom
http://www.scrappintoday.blogspot.com/
Christine Oxner
http://christine-tac-angel.blogspot.com/
Jessica Owens
http://toocutebyjessica.blogspot.com/
I can hardly believe I have been blogging and showcasing my crafts for a year now!!! I've grown just like spring and learned so much as I have traveled the crafting path. I am sure you will be as impressed with the talent from these crafters as I am.
I know it is only the end of January and we really haven't had that bad of a winter (yet), I am still tired of it and I want spring. I love the fresh blooming flowers, the wonder lush green grass, and the budding of the trees. I love the full explosion of spring. Therefore, as I began to decide what I wanted to do for this blog hop, I decided to do a Gramma's Little Angels Explosion Box. This explosion box will hold my pictures of my three grandchildren. As such, the inside layers are not embellished
Here are a few pictures of my project.
Top of Explosion Box
One Side of Explosion Box
Center Bottom (inside) Box
Front of Box
Explosion Box Open
Side of Box
There are three layers to this box, each layer a different color. I learned a lesson while doing this project. For the next time I make an explosion box, I will embellish the flaps prior to securing the three layers together in the center. It will be much easier to add the embellishments when you can lay the pieces flat.
Thank you for stopping by and remember "think spring" and have that "spring fling"!!
your next stop along the way on the garden path is Kari Sanchez ~
http://purplefuntastickcreations.blogspot.com/
Sunshine, Raindrop, and Rainbows and Flowers
Kimberly