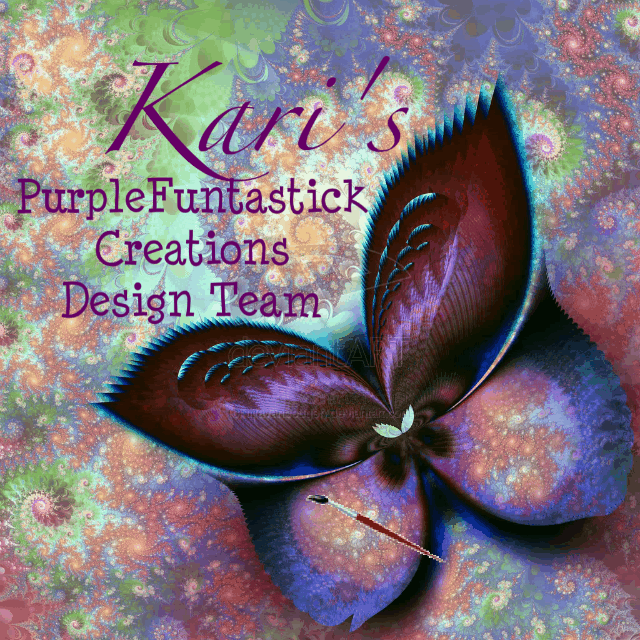 Kari's Purplie's Design Team
This week for my Kari's Design Team posting, we were asked to visit an awesome blog and download a free vintage freebie. Let me tell you crafters, if you love Vintage, you must take time to visit the Far Far Hill blog. Just click on the name and you will go to her web site. Let me warn you thou, you better grab a glass of your favorite beverage, because you will be there a while.
It is no secret that I consider myself a rookie when it comes to paper crafting, and I will be the first to admit that I have a lot to learn. I was way out of my comfort zone as I tried to decide what I was going to for this project. As I browsed the many images available on the Far Far Hill web site, I kept returning to the cupids. This told me I needed to do something with these cupids.
I have seen other cute banners and I thought these cupids would be adorable on the banner, so I set out to design a Valentine's Day Banner to string across my fireplace mantel. I started by creating a scalloped heart in my SCAL application, then decided I wanted my banner to be double sided, so I duplicated my scalloped heart and welded the two pieces at the top. For the fabric looking heart in the center, I took a graphic from the Far Far Hill website and printed it from my Print master program. I printed another sheet of a matching solid color for the Mini Rosettes on the backside.
I used the fabric looking paper to also cut letters; these letters are dangling from the bottom of the hearts with tiny string pearls. I also used these tiny pearls to make a loop at the top of the heart to hang the hearts off the ribbons. The project is not quite finished, because I still want to add rose colored ribbon bows and ties at the top where the pearls hand over the white satin ribbon. This will help keep the hearts hang straight, and it will help add some color at the top of the project.
Here are some pictures of my project...
Front of Banner. (Sorry I could not get the second heart to hang straight)
Back Side of Banner with Tim Holtz Mini Rosettes



Please take time to stop in and visit my Design Team Sisters. They have some awesome projects to share with you.