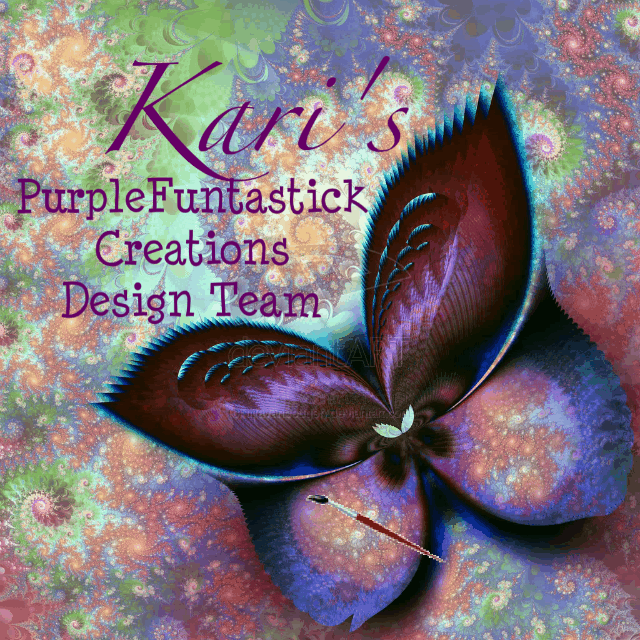 Welcome back to my blog once again.
For today's
Kari's Purplie's Design Team
posting we were asked to create a sketch and then create a card or layout from that sketch.
Crafty and Green
created a beautiful sketch for us, which I decided to use but switch it around just a bit to make it my own.
Yesterday I posted that one of my favorite embellishments were flowers. This card was no different, as I added flowers to it as well. However, this time I tried something a little bit different. While shopping at Wal-Mart, I found these cool flower petals in the wedding isle. What is even better, they were on sale half off. I bought them in both plain white and light pastel colors. There are over 500 in each box. I think they will last a while.
I used tiny purple and ivory roses from my stash to complete the center of the design.
Sorry for the ugly craft mat - it sure is well used and really does protect my dining room table.
To make my flowers, I used a dab of hot glue in the center of the petal, I then added the tiny rose and cupped it up around the bottom of the tiny rose. I then added a second petal by gluing it offset from the first one. I really like how they turned out.
My sister in law, Lisa over at
My Crafty Spaces
gave me these awesome Easter images and I thought this sketch would be a great time to try one out. I had tried to create the image using my RubOnz, but I did not have much luck. so I had to rethink my idea. I ended printing the design out on yellow Stampin' Up card stock, then cutting the shape out using my Sizzix Die. However, I wanted something different, so I used my metal straight edge and my trusty exacto knife and I sliced off the top and bottom portions of the cut, giving it a square look rather than the pointed look it would normally have.
I then did the same thing with my Happy Easter sentiment. I was unsure how I wanted to embellish the sentiment, so I went simple and added two small pearls at the points. The Happy Easter Sentiment is Stampin' Up.
I was not sure I would like this squared look, however, the more I look at it, the more I like it. It makes me wonder what else I can do to change up this cut. It provides a whole different look from the standard cut I use quite often. I am beginning to get a little more adventurous with my designs, yet, I still revert back to the simplistic side I am most familiar with most of the time.
I hope you have enjoyed my Easter Card. Please be sure to stop at each of my Design Team Sister blogs. I know you will not be disappointed in their designs.
Kari Sanchez -
http://purplefuntastickcreations.blogspot.com/
Sr. Design Team
Kimberly Pate ~
http://scrappingrookie.blogspot.com/
Shawnee Penkacik -
http://www.blessedonthebrightside.com
Lynne Kirsch -
http://slasewcraftiness.blogspot.com/
Susan E Bermudez -
http://susanascorner.blogspot.com/
Tina Keller-
http://craftyandgreen.blogspot.com
Carolyn Phillips ~
http://messmuddleandfun.blogspot.com/
Jr. Design Team
Rachelle Larsen-
http://creationsbyrachelle.blogspot.com
Lisa Woodward-
http://mycraftyspaces.blogspot.com/
Andrea Stradley-
http://astateofgracie.blogspot.com/
Jackie Lodge-
http://jackrabbitscrappin.blogspot.com/