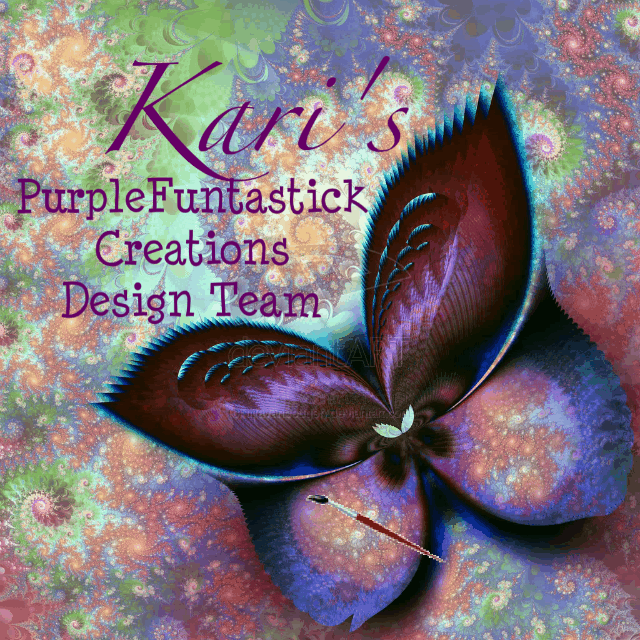 Good Monday Morning, and welcome to my Design Team Project for March for Kari's Purplies.
This month we were challenged to do something for St. Patrick's Day that was not a card or a Layout. Kari had suggested something for home decor. I am not much for home decor projects for the holidays, unless it is Christmas, so this one was a challenge for me. I tried to do a picture frame using Shrinky Dinks, but I was not having a lot of luck cutting them without them ripping. I did not want to waste a bunch of sheet of the product because of the cost, so I rethought my plan of action. So Plan B it is.
For the past few months, I have been wanting to create a luminary. But I did not want it to be just any luminary. I have enough stuff in my house that collects the spring dust blowing around outside. With the help of a friend, I came up with a plan. A luminary that I can alter for each season/holiday/ or what ever reason I desire.
Here is the result.
Front of Luminary
Lucky on the inside looking out. He is protecting his pot of gold.
All of the embellishments you see on this luminary are all held in place with tiny velcro dots. As Easter draws near, I will be taking the shamrocks off and replacing them with bunnies, eggs and chicks. When Easter passes, I will go for the next holiday or a season. I am all about crafting and reusing my resources. If I am going to make something, I would like to make it and be able to use if for more than once a year for a few days.
I realized as I was adding these pictures, that I have forgotten to add my vellum to my windows. I will have to go back and do that.
Please make sure you stop in and visit my design team sisters. They always have awesome projects to share with you. Leave a comment if you were inspired by my work today.
Kari Sanchez - http://purplefuntastickcreations.blogspot.com/
Sr. Design Team
Kimberly Pate ~ http://scrappingrookie.blogspot.com/
Shawnee Penkacik - http://www.blessedonthebrightside.com
Zenita Smith --
http://www.scrappinwithz.blogspot.com
Lynne Kirsch - http://slasewcraftiness.blogspot.com/
Susan E Bermudez - http://susanascorner.blogspot.com/
Tina Keller- http://craftyandgreen.blogspot.com
Carolyn Phillips ~ http://messmuddleandfun.blogspot.com/
Jr. Design Team
Rachelle Larsen-http://creationsbyrachelle.blogspot.com
Lisa Woodward-http://mycraftyspaces.blogspot.com/
Andrea Stradley-http://astateofgracie.blogspot.com/
Jackie Lodge- http://jackrabbitscrappin.blogspot.com/