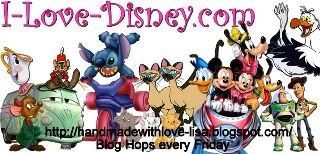 Welcome to Walt Disney's Animated Movies Blog Hop!!! What makes this hop phenomenal as in no other hop is that every Friday, we will be paying tribute to different movies SOOOO, you will need to mark you calendars for every Friday for these special blog hops:
March 9: 101 Dalmations
March 16: Beauty and the Beast
March 23: Cinderella
March 30: Alice in Wonderland
Today, we are celebrating all those cute characters that come alive on the screen. If you just happened to visit me today, I wouldn't want you to miss one chime of the clock and would want you to start with Lisa at http://handmadewithlove-lisa.blogspot.com/ If you arrived from Anita then you are on the right spot!!!!
Today I would like to share with you an altered journal I made for our eldest grand daughter. She is four years old, and has just started Pre-school. Grandma thought this cute little journal would give her something to practice her ABC's, numbers, and colors. The Beauty and Beast cutout, I received in a cut swap I participated in. I wish I could remember exactly who sent this to me, but silly me, I did not write down all the cuts I have received. I should make this change as I continue to participate in these swaps. I hope you like my altered journal.
Thanks for stopping by today and visiting and checking out my project, I am the last stop along the way. Thus, you did not meet the beast, you just saw all the beauty.
There is a great line-up today for the hop and I wouldn't want you to miss a single spot:
Beauty and the Beast Blog Lineup:
Lisa -
http://handmadewithlove-lisa.blogspot.com/
Bonnie-
http://scrap-n-away.blogspot.com
Barbara-
http://barbarab3.blogspot.com
Lynne -
http://slasewcraftiness.blogspot.com/
Anita -
http://www.anitaandbugs.blogspot.com/
Kimberly ~
http://scrappingrookie.blogspot.com/