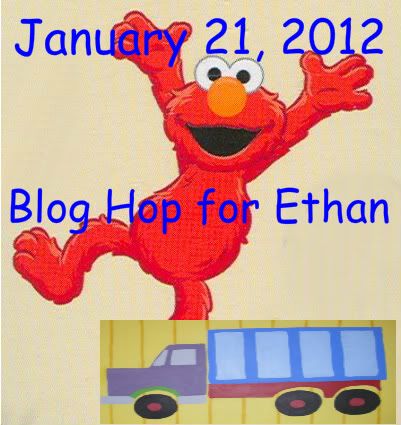 Welcome to Blog Hop for Ethan Pinter. He is a boy that is very sick. Here is a bio as provided, from his mom, Melissa Pinter:
My name is Melissa Pinter and I have a 2 year old son name Ethan Pinter who was diagnosed with a rare liver disease called Biliary Atresia att the age of two months old. This is a rare disease because he was not born with Bio Ducts. So Dr. Pintinger and the Akron Children's Team reconstructed them and the procedure was called a Kasi. So at the age of 8 months old Ethan and I were Life flighted to Cincinnati Children's because he had Upper GI bleeds. The only thing that woud help him would be a New liver. Feb 18th 2011 he had recieved a half of another babies liver. This baby saved my son's life and we are so ever so greatful. Ethan and I had waited a total of 9 months for this. We have been seperated from my husband and daughter during that time. Ethan is now 2 years old and is having complications and we are currently living at the Ronald Mcdonald House in Cincinnati till we get him better. He has two crucial virus's that he is currently fighting, they are the EBV Virus and CMV Illuminitis (Fatal Virus- it attacks every organ) .
If you happened upon my page by accident, and you want to start from the beginning of the blog hop, please go to Jenn's page www.memorieswithjen.blogspot.com/
1. Jenn ~ www.memorieswithjen.blogspot.com/ Start the blog hop here
2. Courtney ~ http://www.craftingwithcourtney.blogspot.com/
3. Tina C. ~ http://www.tinasscrapcorner.blogspot.com/
4. Tina K ~ (Crafty and Green) http://craftyangreen.blogspot.com/
5. Michelle Ferris ~ http://slasewcraftiness.blogspot.com/
6. Lynne ~ http://slasewcraftiness.blogspot.com/
7. Michelle Peak ~ http://queenofmycraftroom.blogspot.com/
8. Kimberly Pate ~ http://scrappingrookie.blogspot.com (You are currently Here)
9. Nicolette ~ http://beyondscrapin.blogspot.com/ (You go here Next)
10. Becky ~ http://beckscricards.blogspot.com/
11. Autumn ~ http://autumnsbuggycreations.blogspot.com/
I have two cards for you to enjoy.
This card was made using bright yellows and greens to highlight the wonderful greens of the magical forest and the warmth of the sun. A forest full of God's wonderful creations. I thought these happy monkeys were a wonderful way to add some happiness into Ethan's hospital room. Cute, cuddly, and showing so much love for one another.
The stamp set I received with one of my many magazines I picked up at the craft store. I no longer have the package they came in, as such, I have no idea who made them. I stamped the images using my Brilliance stamp sets. I liked the colors of them; however, I really liked the pointed tip of the stamp that allowed me to get into the small tight areas of the palm tree and vines.
I used the same vine design on the inside of the card and added another stamped monkey. I also added a sparkle heart where the monkey is grabbing onto the vine. I think I got a little vine happy with this card, but the monkeys do need something to swing from, right?
I hope this card brings a little bit of cheer for both Ethan and Melissa.
I also wanted to make a card for Melissa. I cannot even imagine how difficult this must be for her to be going through. Again, I chose bright and cheerful colors to complete the card. While I have stuck with my simplistic style for the card, I believe the sentiment speaks for itself.
Buttons and flowers adorn this simple card to give it a little flair. I really liked the small gems on the inside of the pre-made flowers.
Next you will be hopping to Nicolette's page. http://beyondscrapin.blogspot.com/ . If you missed any along the way, you can always return to the beginning.
We continue to send our thoughts and prayers to Melissa and Ethan and wish Ethan a speedy recovery. If you would like to send a card yourself, you can use the address provided by Melissa.
Melissa Pinter
Ronald Mcdonald House Room 17
350 Erkenbrecher Ave
Cincinnati Ohio 45229
Thank you for stopping by today.
Kimberly