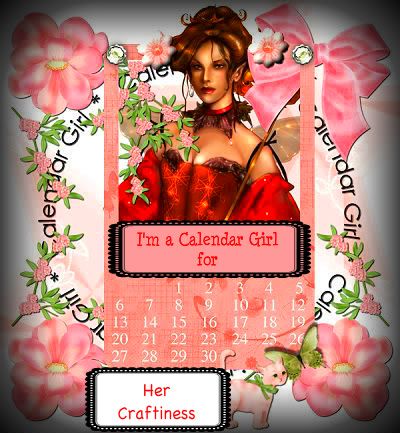 Welcome to our January Calendar Girls' Blog Hop. Its absolutely amazing when you do a google search the interesting facts you may find. Such a find is special and unique occassions throughout the yea!!! These unique holidays are our inspiration. As Neil Sedaka sang in his song "Calendar Girls" - "January you start the year out fine".
The hop starts with Edwina at . You won't want to miss a single calendar event!!!!
The line-up for January includes:
Edwina -
http://edwinascreations.blogspot.com/
Miriam -
http://miriamscreations.blogspot.com
Lucy -
http://love2createitall.com
Janet -
http://www.ladyluvbug.blogspot.com/
Kimberly -
http://scrappingrookie.blogspot.com
Lynne -
http://slasewcraftiness.blogspot.com/
Anita -
http://www.anitaandbugs.blogspot.com
Jearise -
http://lorbysworld.blogspot.com/
Tabetha -
http://tabethascreations.blogspot.com/
Vicky -
http://crafting-vicky.blogspot.ca/
January Occassions We Wish to Share:
Hot Tea Month - Edwina
National Oatmeal Month - Miriam
National Soup Month
3 Festival of Sleep Day - Vicky
3 Fruitcake Toss Day
5 National Bird Day - Lucy
6 Cuddle Up Day - Janet
8 Bubble Bath Day - Kimberly
11 Step in a Puddle and Splash Your Friend's Day -
12 National Pharmacist Day: Lynne
14 Dress Up Your Pet Day: Anita
15 National Hat Day: Jearise
17 Ditch New Years Resolutions Day: Tabetha
18 Winnie the Pooh Day -The Birthday of Winnie's author A.A. Milne: Lynne
20 Penguin Awareness Day:Anita
21 National Hugging Day: Jearise
21 Squirrel Appreciation Day- Tabetha
23 National Pie Day - Miriam
27 Chocolate Cake Day - Lucy
28 National Kazoo Day
29 National Puzzle Day: Lucy
29 National Cornchip Day -Janet
31 Backward Day
We have a super sponsor this month - The Stamping Chef,
http://thestampingchef.oo.gd/index.php?route=common/home
, who has graciously offered 3 digis of the lucky winners choice.
This is FiFi and Bubbles, she is a great digi stamp by Sherri Baldy Stamps. You can find Fifi and Bubbles by
clicking here
. I colored this great digi using my Crayola Colored Pencils blending them with Gamsol. I also used two of my Copic markers, I used B000 Pale Porcelain Blue, which i used to high light the bubbles, and i used E01 Pink Flamingo to color the flowers on the bath tub and the tub legs. I embellished the card with some white lace, then added a string of pinkish lavender pearls and three pink roses with pearls in the centers.
Your next stop along the way of the calendar is
Lynne
. Thanks for stopping by and mark your calendar again next month to see what Holidays to Celebrate on
February 9, 2013, for the next Calendar Girls Blog Hop
!
Thanks for stopping in today for a visit!
Kimberly